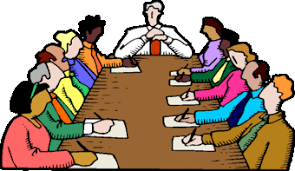 Notice of Regular Monthly School Board Meeting
Dawn Fickett
Wednesday, April 22, 2020
NOTICE OF REGULAR MEETING
AGENDA
A. INTRODUCTORY BUSINESS
1. Call meeting to order. Pledge of Allegiance
2. RE: APPROVAL OF MINUTES OF THE FEBRUARY 26 REGULAR AND MARCH 18 EMERGENCY MEETINGS OF THE BOARD OF DIRECTORS ACTION:
3. RE: REPORT—SUPERINTENDENT OF SCHOOLS INFORMATION:
4. RE: REVIEW OF FINANCIAL STATEMENTS INFORMATION:
5. RE: AGENDA ADJUSTMENTS ACTION:
B. OLD BUSINESS None
C. NEW BUSINESS
1. RE: HIRING PROBATIONARY CONTRACT TEACHERS ACTION:
2. RE: HIRING TEACHERS MOVING TO CONTINUING CONTRACTS
3. RE: HIRING ADMINISTRATORS/OTHERS WITH ONE-YEAR CONTRACTS ACTION:
4. RE: APPROVAL TO OPT OUT OF CHILD AND ADULT CARE FOOD PROGRAM ACTION:
5. RE: APPROVAL OF THE 2020-2021 DISTRICT BUDGET INCLUDING SIGNING THE WARRANTS FOR THE DISTRICT BUDGET MEETING AND VALIDATION REFERENDUM AND THE NOTICE OF AMOUNTS ADOPTED ACTION:
6. RE: AUTHORIZATION FOR THE SUPERINTENDENT TO TRANSFER FUNDS BETWEEEN COST CENTERS, IF NECESSARY ACTION:
7. RE: ADJOURNMENT ACTION:
Please note: This meeting will be held virtually using the ZOOM app, which can be downloaded to your device (computer/laptop, tablet, smartphone).
The link for the meeting is: https://zoom.us/j/621444150…
The meeting ID is: 621 444 150
The password is: msad37