What is 'Guagus grateful for? A Lot! The students in JMG and the Student Government sponsored a huge display to express gratitude. Both the student body and teachers/staff posted what they are grateful for.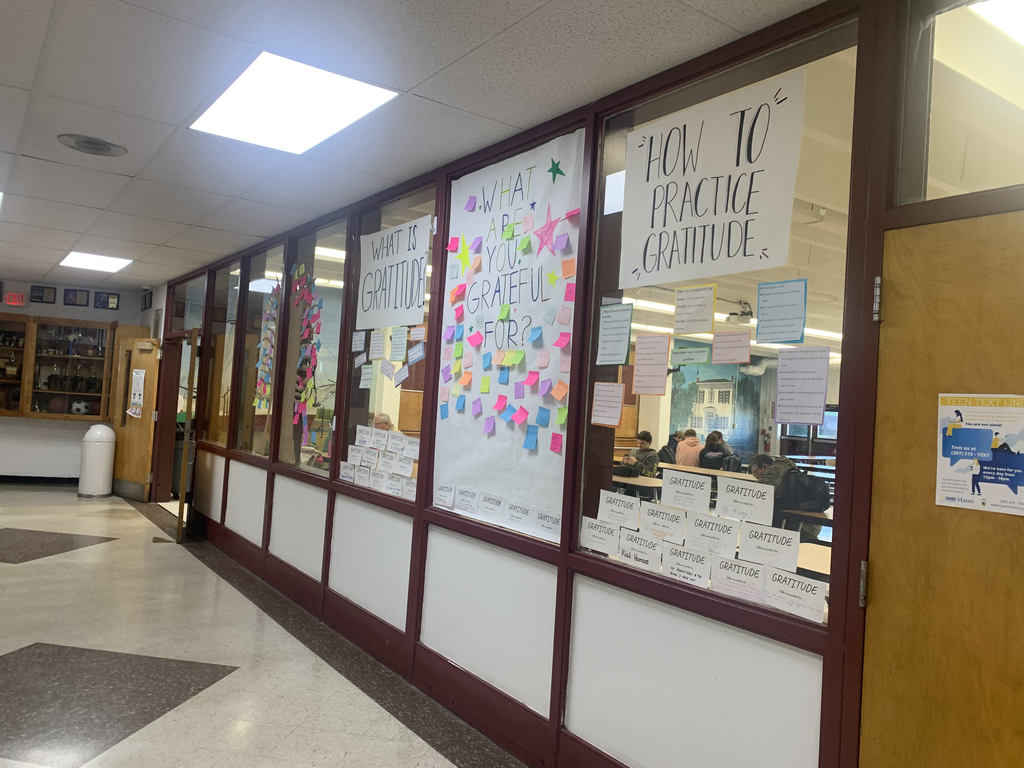 High School Basketball has officially started. Mark your calendar so you don't miss a game.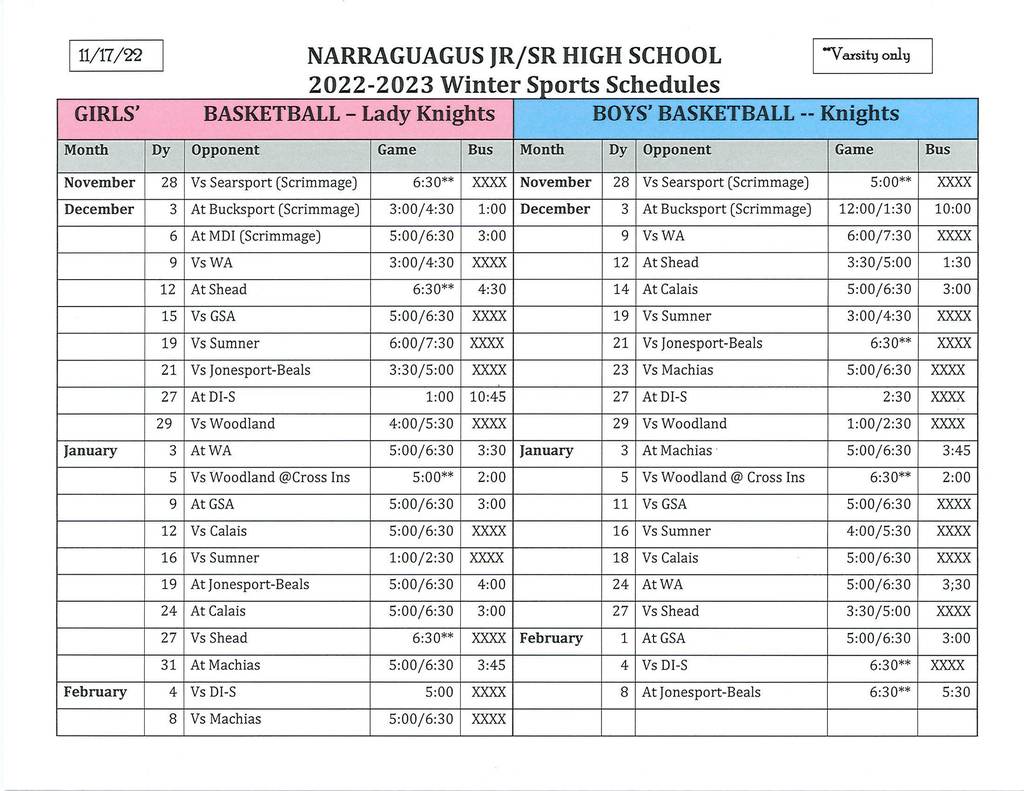 Congratulations to the most recent winners in the Senior Calendar Raffle! November 16th - Todd Emerson won $100 cash donated by Kash Energy. November 17th - Amanda McLaughlin won a $50 gift card to Vazquez Takeout. November 18th - Melinda Lail won a $50 gift card to Hannaford donated by J & K Bait. November 19th - Jennifer Beal won a $50 movie basket donated by Ceanna Wallace and Jenny Perez. November 20th - Monica Reynolds won a 1/2 cord of wood donated by Philly's Firewood. November 21st - Kathy Howell won $50 donated by Paredes Painting. Congratulations and thank you to our sponsors.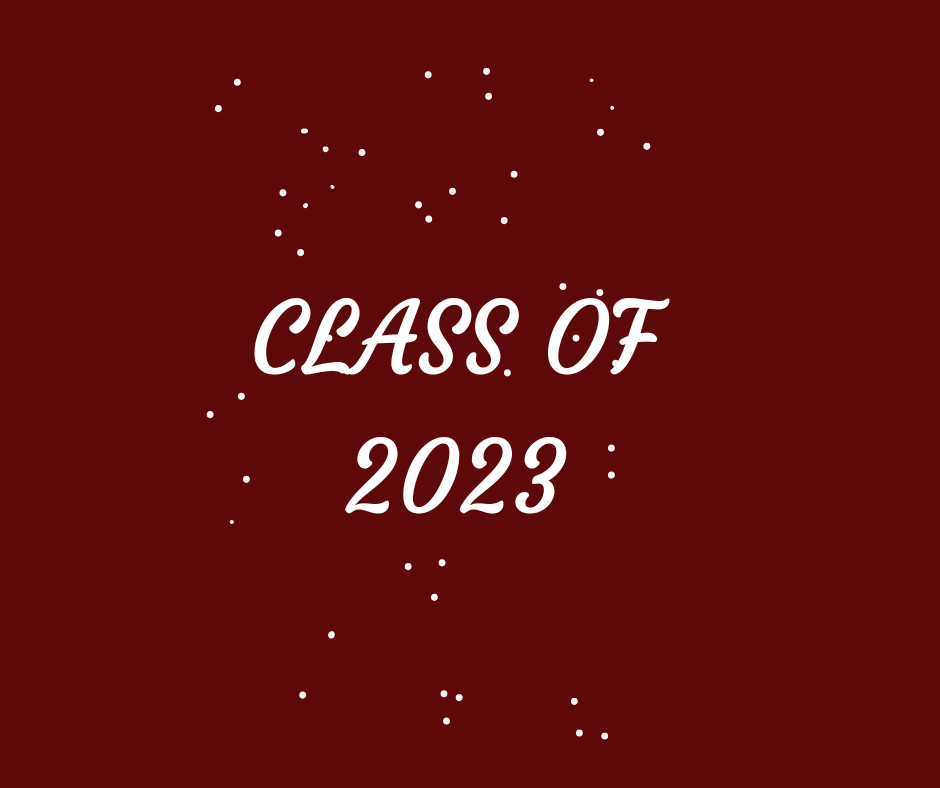 Students in the Outdoor Club went hiking today on National Hiking Day!

Don't miss the Craft Fair on Saturday, November 19th. There will be 47 vendors!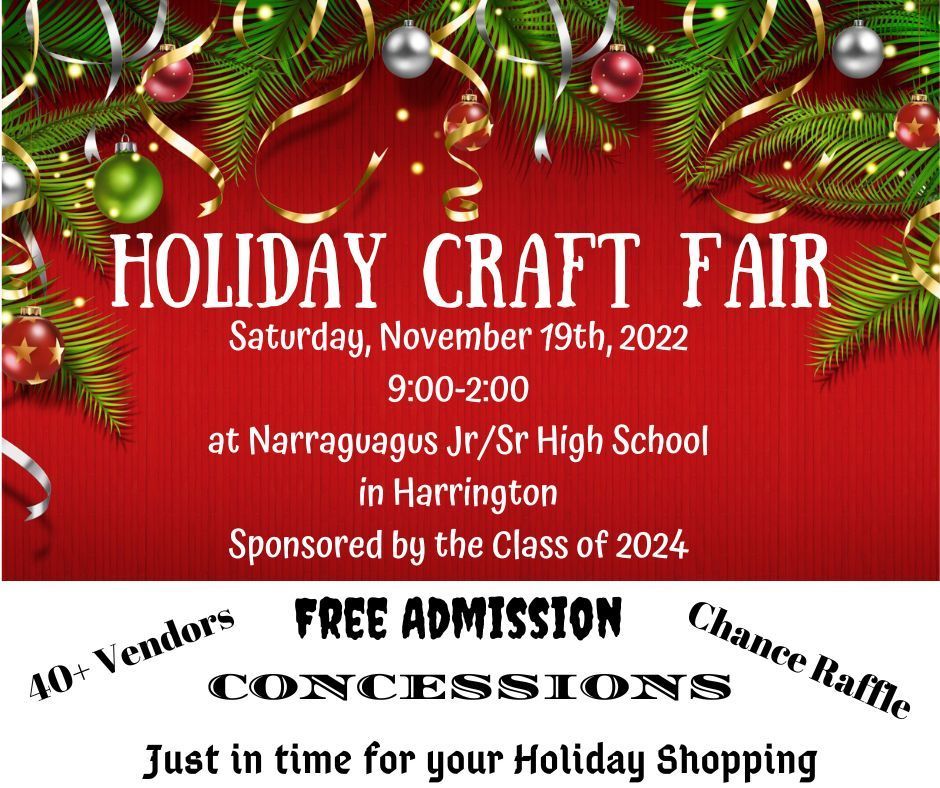 Reminder: Thursday, November 17th and Friday, November 18th are early release days. We will follow the 7 Period Early Release Day Schedule.

Congratulations to recent winners of the Senior Class Calendar Raffle. Friday, November 11 - Cody Davis won $100 cash donated by Kennedy Marine. Saturday, November 12 - Rhonda Taylor won the Gift Card Bonanza worth $60. Sunday, November 13 - Darryl Dorr won $200 donated by Frank Reynolds Construction. Monday, November 14 - Judy Albee won a $50 Gift Card from Eastside Variety. Tuesday, November 15 - David Reynolds won a $25 Gift Card from Friendship Trap and 2 lbs of scallops from Steve and Tricia Brown.

The SeaCoast Mission in Cherryfield has a Christmas Program for families in need. The program serves individuals from Addison, Beals Island, Cherryfield, Columbia/Columbia Falls, Deblois, Harrington, Jonesboro, Jonesport, Milbridge, Steuben, MDI and the Islands. To get assistance, fill out the form below, available in Spanish and English. In-person shopping by appointment will begin the week after Thanksgiving.
https://forms.office.com/r/JsS6YRQJYz
If there are any questions, or if you know of a family who is unable to access the form online, please do not hesitate to reach out to Stephanie from the SeaCoast Mission directly. Her office number is (207)546-5868.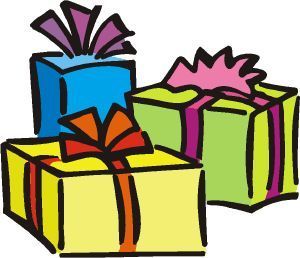 Join us tomorrow at 9:00am for the annual Veterans Day Ceremony, where we will be honoring three local veterans.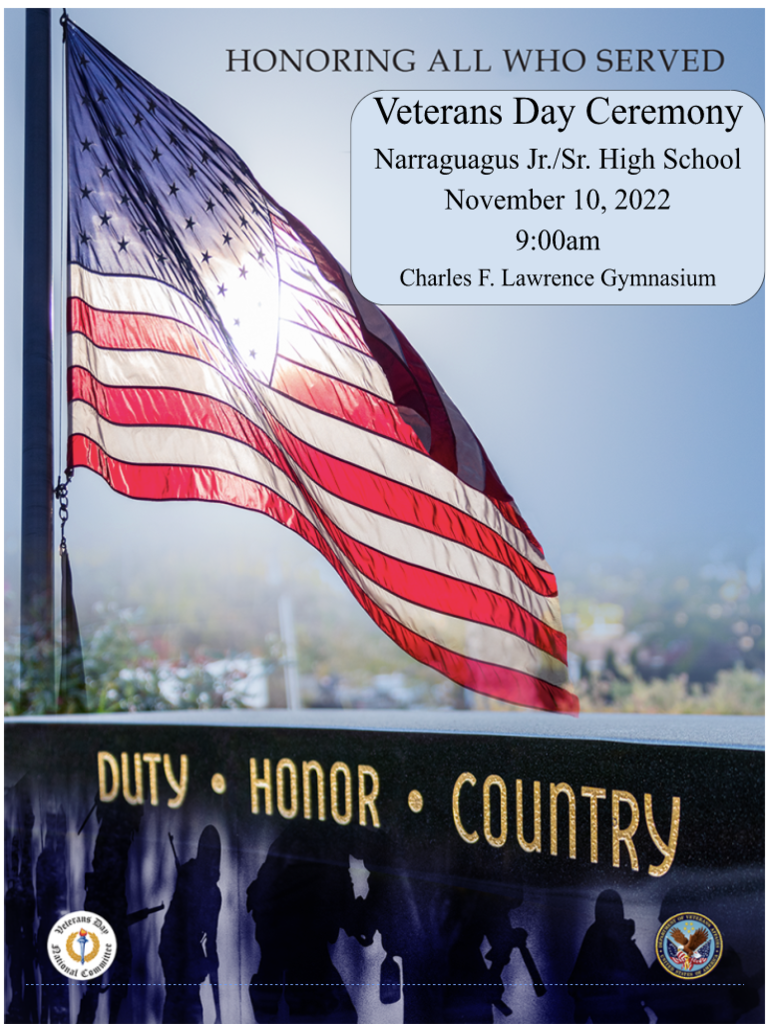 We are looking for interested Alumni to join Pep Band. Message Dawn Stubbs @
dstubbs@msad37.org
if interested.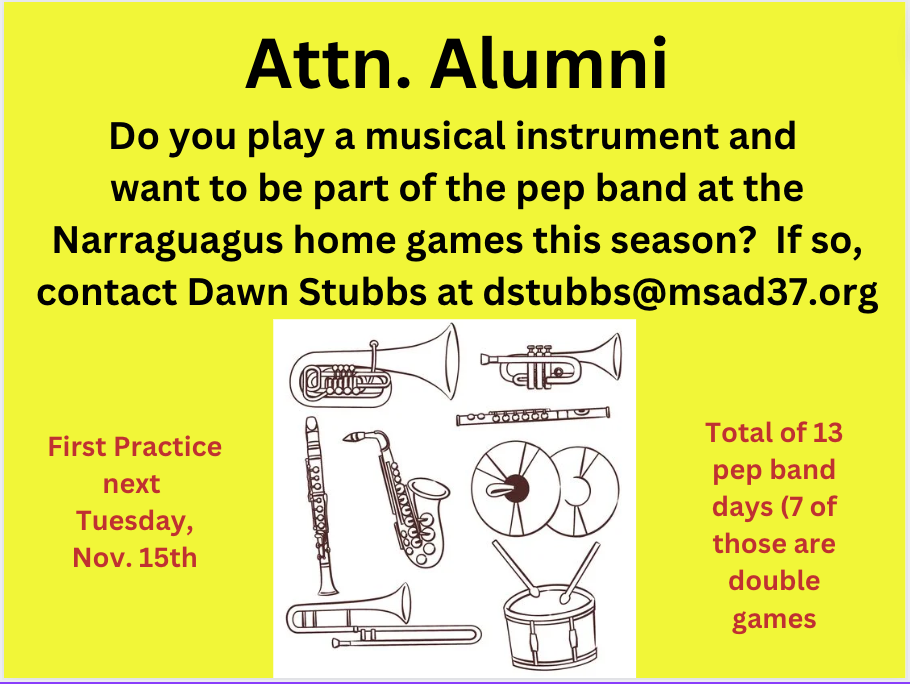 Congratulations to our most recent winners of the Senior Calendar Raffle. Monday, Michelle McLaughlin won a $50 Walmart gift card donated by Mike's Concrete. Tuesday, Felicia Wallace won a nights stay at Kawanhee Inn.

MATTHEW HAIRE has been named the 2022 Narraguagus Jr/Sr High School Heisman High School Award winner. The award recognizes outstanding scholar-athletes. Matthew will continue on to the state competition where he has a chance to receive a $1,000 college scholarship. CONGRATULATONS MATTHEW!!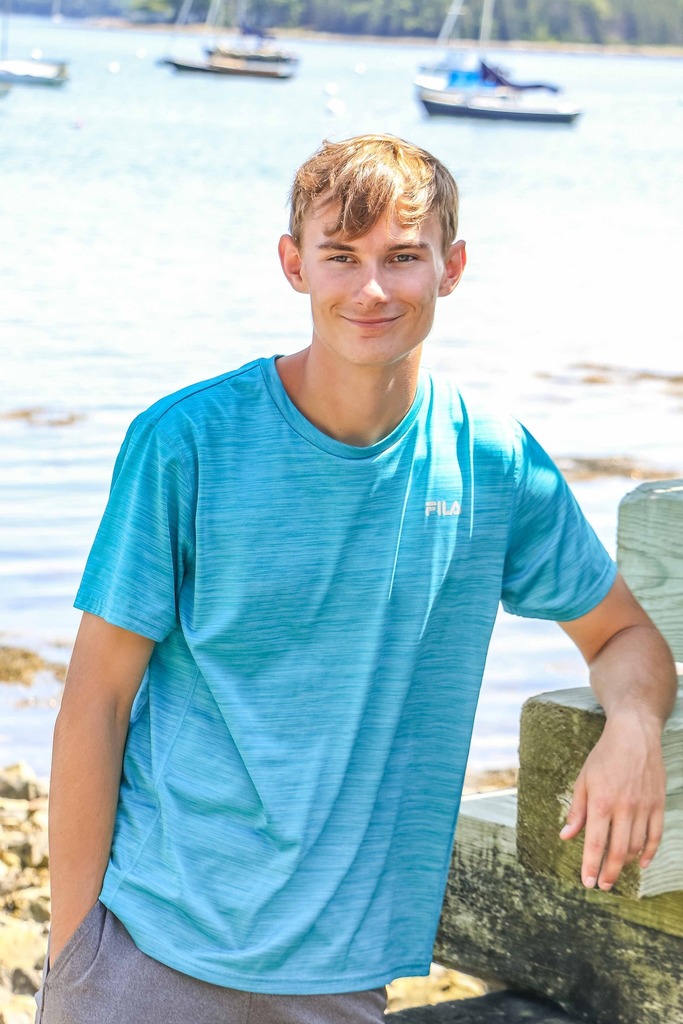 Congratulations to our most recent winners in the Senior Calendar Raffle. Friday's winner of a $50 gift card to Dunkin Donuts donated by the Machias Dunkin Donuts was Jael Garcia-Baez. Saturday's winner of a $25 gift card from the Knotty Lobster and a birdhouse donated by David Rinkle was Brady Reynolds. Sunday's winner of a $100 gift certificate from So Fresh, Show Clean was Rebecca Fletcher. Today's winner of a $50 Hannaford gift card donated by J & K Bait is Melinda Lail.

Congratulations to today's Senior Calendar Raffle winner - Chris Pinkham. He won 1/2 cord of firewood donated by Danny Perry.

The annual Veteran's Day Ceremony will be held on November 10th, at 9:00am. The public is invited to join us as we honor local veterans and celebrate the service and sacrifice of our country's veterans.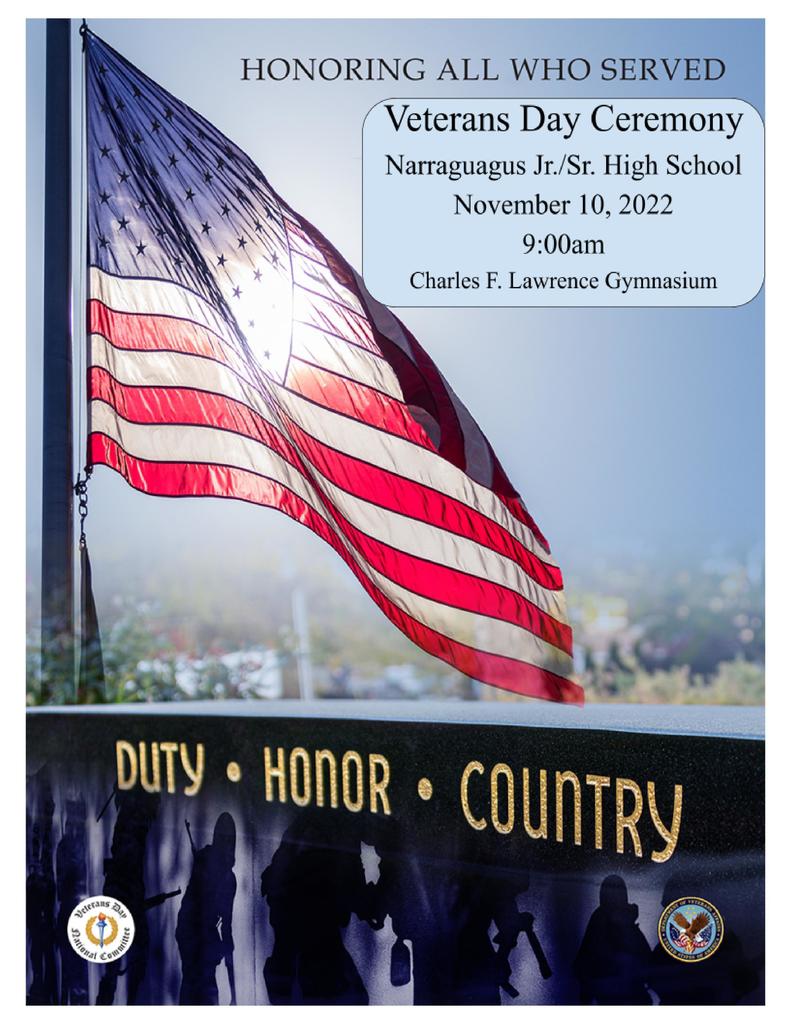 A Red Cross Blood Drive will be at Narraguagus Monday, November 7th from 2-6:30. There are still spots open to reserve a time. Contact Student Government advisor Caroline Foote at
cfoote@msad37.org
to reserve your spot today, or go the the Red Cross website at RedCrossBlood.org and enter Narraguagus to schedule your appointment. Walk Ins are welcome too!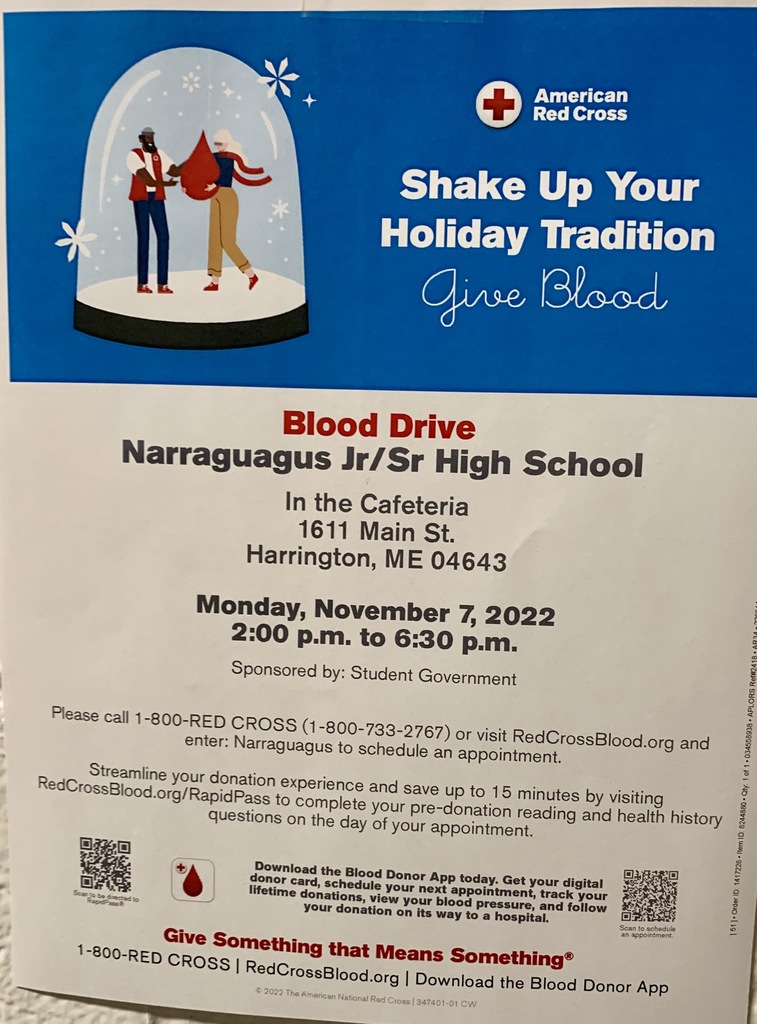 The Senior Class Calendar Raffle is under way. If you are interested in buying one, please get in touch with a senior or call the school. You can win multiple times. Calendars are $20 each. Winners for the 1st were Dick and Sherry Paul. The winner for the 2nd was Roxanne Strout. CONGRATULATIONS and thank you for supporting the Class of 2023!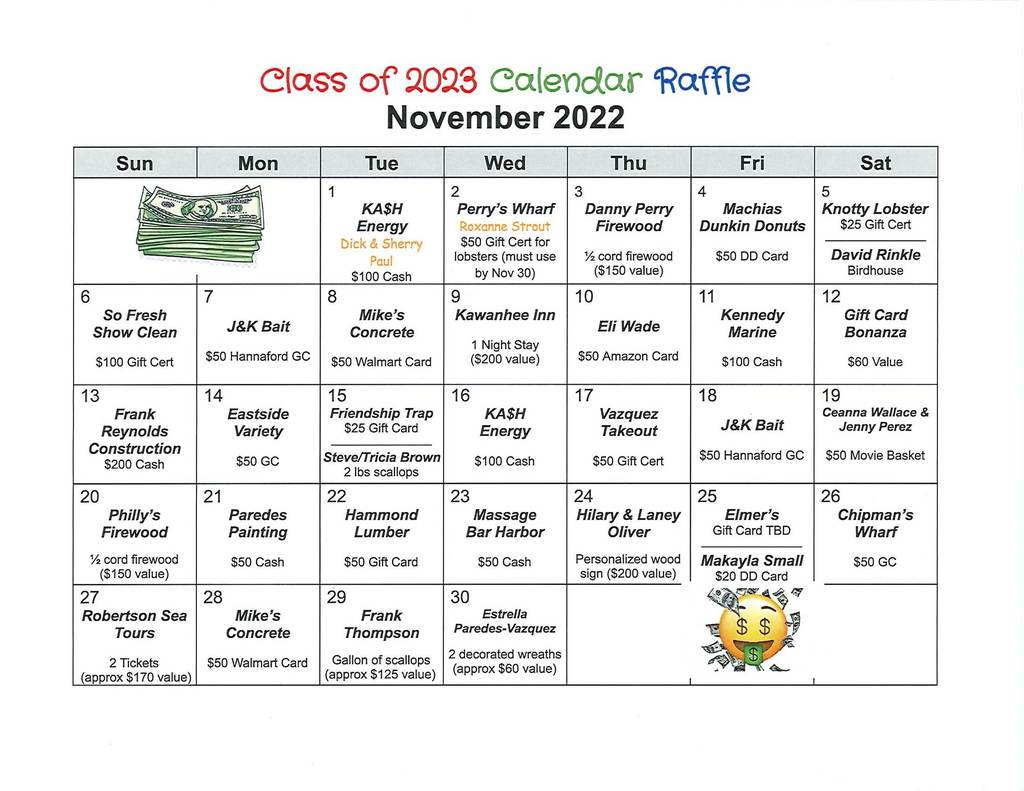 PARENT CONFERENCES at Narraguagus Jr/Sr High School 1611 Main Street Harrington, ME 04643 Thursday, November 17, 2022 12:00 p.m. to 4:30 p.m. 5:00 p.m. to 7:00 p.m. CALL THE SCHOOL OFFICE AT 483-2746 or E-mail
sarahgrant@msad37.org
TO SET UP APPOINTMENTS. We have individual 15 minute appointments available for any of your child's teachers. Individual teacher schedules fill quickly so please call as soon as possible. **Parent Conferences are optional** Parents can pick report cards up at the school on this date. Any report cards not picked up will be mailed. CONFERENCIAS con los PADRES en Escuela Secundaria Narraguagus Jr/Sr 1611 Main Street Harrington, ME 04643 Jueves 17 de Noviembre de 2022 12:00 p.m. a 4:30 p.m. 5:00 p.m. a 7:00 p.m. LLAMAR A LA OFICINA DE LA ESCUELA AL 483-2746 o correo electrónico
sarahgrant@msad37.org
PARA CONCERTAR CITAS. Tenemos citas individuales de 15 minutos disponibles para cualquiera de los maestros de su hijo. Los horarios individuales de los maestros se llenan rápidamente, así que llame lo antes posible. **Las conferencias paralos padres son opcionales** Los padres pueden recoger los boletinas de calificaciones en la escuela en esta fecha. Cualquier boletín de calificaciones no recogido será enviada por correo.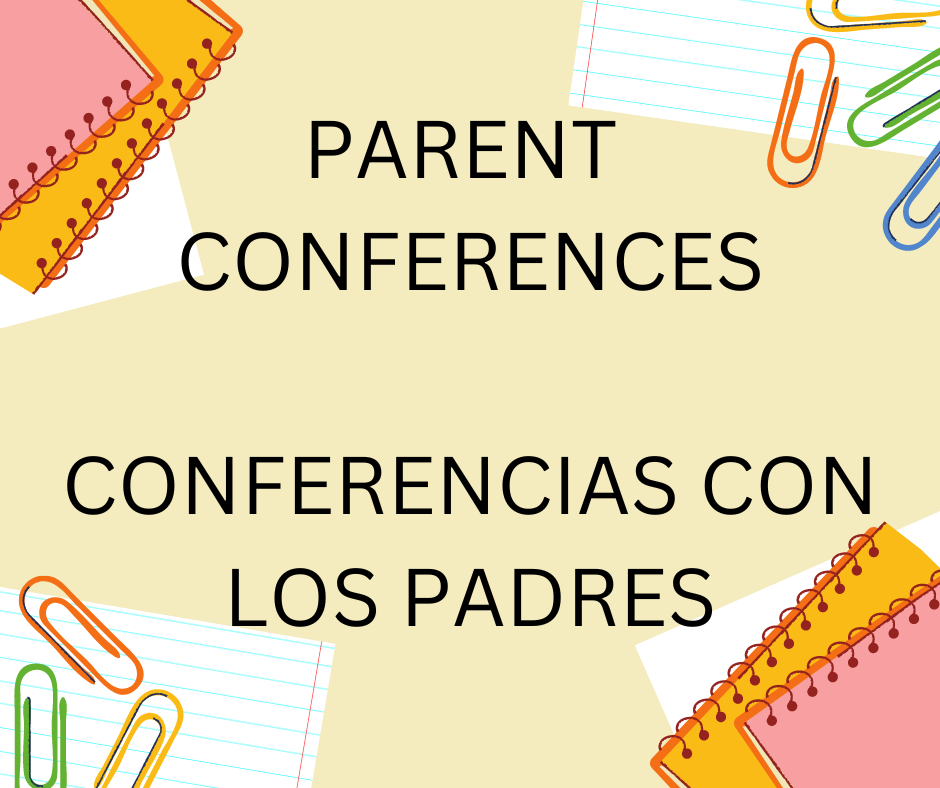 Monday, October 31st is an early release day for our students. Staff will use the rest of the day for Professional Development.